---
Please note that there is a delivery time of 4-6 weeks for our SOF bulletproof helmet.
The bulletproof helmet has a low weight of only 1.15 kg / 2.53 lbs in a size Large and that makes it one of the market's absolutely lightest bulletproof helmets in NIJ level 3a.
According to NIJ standard 0101.06 we have tested our SOF bulletproof helmet against a .44 magnum and 9 mm.
It is made of 100% Kevlar aramid from Dupont and is V50 tested at 720 m/s according to STANAG 2920. It gives you a bulletproof helmet that stops fragments and splinters. The V50 value is higher than the PASGT helmet and the MICH helmet because the high cut makes it possible to add more layers of Aramid fiber while keeping the weight down.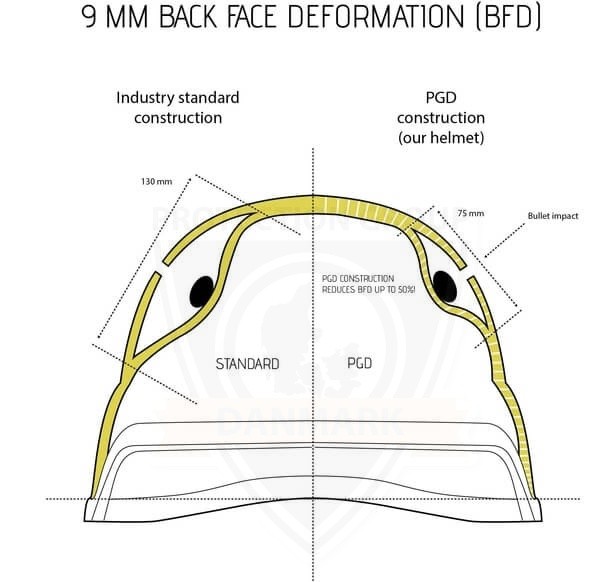 Bulletproof helmets from Protection Group Denmark are designed to reduce the area affected by the impact of the helmet. A helmet that follows the industry standard affects an area of ​​130 mm and provides a deep impact. A helmet from PGD only affects up to 75mm and gives a dent in the helmet that is up to 50% smaller than the industry standard. It can be the crucial difference between life and death.
The bulletproof helmet is protected against rain, oil and similar plants, so the paint does not fade and the ballistic properties do not deteriorate. This is done by laying a layer of Polyrea spray paint around the entire helmet.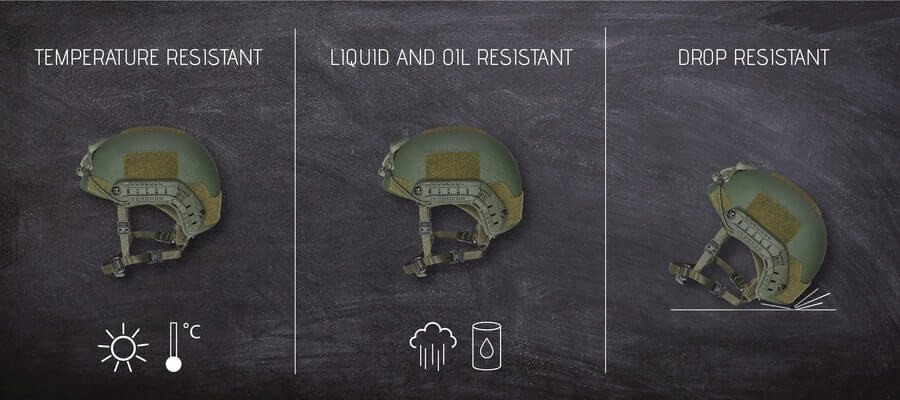 Top comfort:
The helmet features the foam system PGD-10 pad liner, which ensures a soft and comfortable helmet.

PGD-BOA Fit clamping system is standard in this model and ensures that your helmet can be adjusted and clamped perfectly to your head.
Specifications SOF bulletproof helmet:
High cut

4H clamping system. Upgrade to BOA FIT clamping system - read more here.

7 Memory Foam Pads. Upgrade to 10-pad helmet liner - read more here.

NIJ IIIA mod .44 magnum and .357 SIG (NIJ IIIA)

V50 tested at 720 m / s according to STANAG 2920

50% BFD reduction mod 9 mm (HPW-TP-0401.01B IIIA)

Sizes L and XL

1.1-1.2 kilos (Depending on size).

100% Kevlar aramid from Dupont

Compare SOF bulletproof helmet with our other military helmets here.
---
Our SOF bulletproof helmet comes in the following colors:
OD green

Khaki / sand / desert

Navy blue

Black

UN blue
It is also possible to add both front shroud and rails on the side of the SOF helmet. Please contact us (info@protectiongroup.dk) for a non-binding offer on this.
---
Below is a test of our bulletproof helmet tested against .44 Magnum, 40 S&W, .357 SIG and 9 mm