---
The ARCH helmet is constructed with high-performance Kevlar aramid fiber from Dupont, making it a popular choice among professional military and police units worldwide.
We pride ourselves on producing only top-quality helmets that are 100% made in Europe. Our priority is your safety, and we believe in providing you with a helmet that you can trust to do its job effectively, every time.
Our bulletproof helmet is designed to be adaptable to your specific needs.
The front shroud is comptabile with Wilcox G24 and similar mounts and our rails are compatible with the following headset adapters: 3m Peltor, Sordin, Ops-core AMP arms, Earmor, and Unity Tactical MARK 2.0, you can mount additional equipment to the helmet Velcro and rail system, as it is designed to follow the industry standard for picatinny rails.
We understand that choosing a helmet is not a decision to be taken lightly, which is why we stand behind our product with complete confidence. You can trust our ARCH helmet to provide you with the highest level of protection and performance, no matter what your needs may be.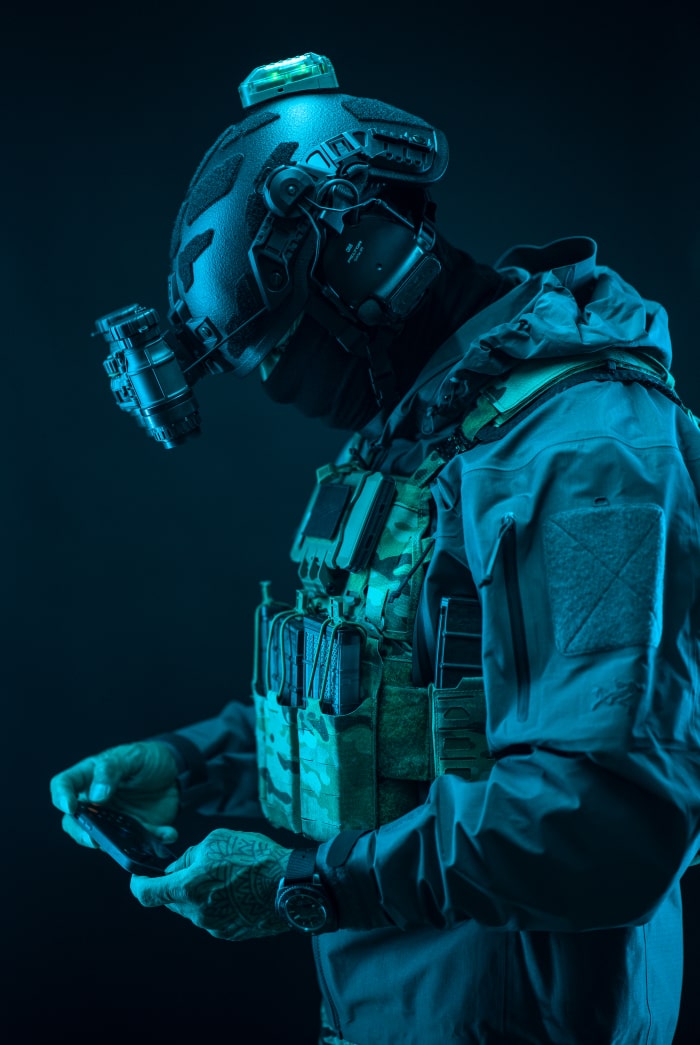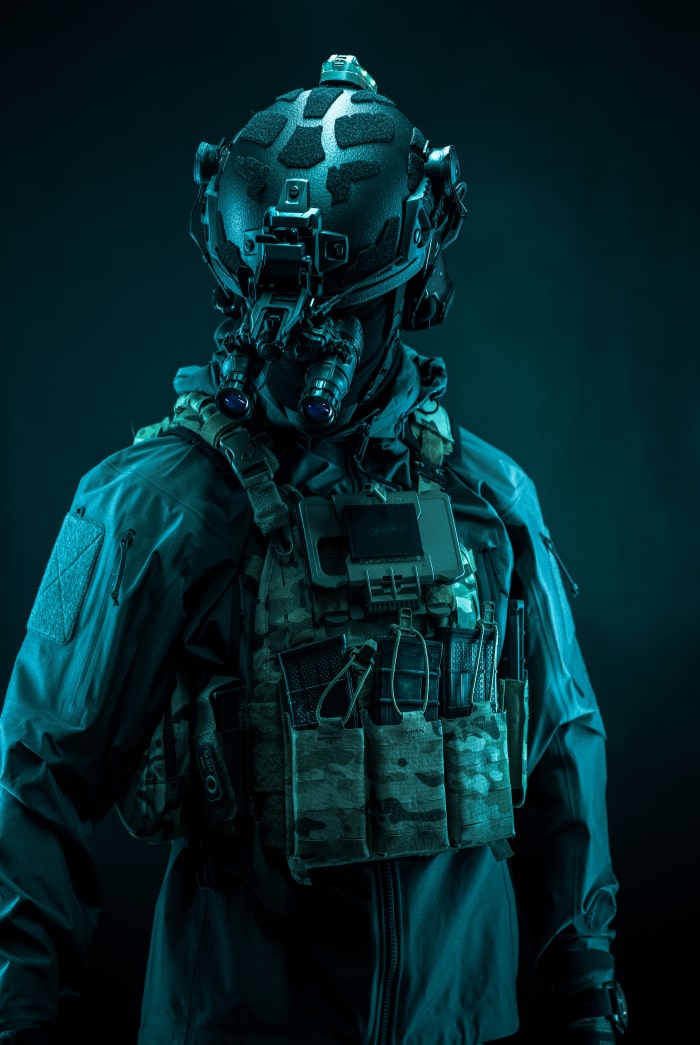 The ARCH helmet weighs only M(1.30 kg), L(1.35 kg), XL(1.39 kg) for the complete helmet. This makes this bulletproof helmet, one of the lightest aramid bulletproof helmets on the market. The superior weight-to-protection ratio allows for a greater mobility during use.
Moreover, we have applied a layer of polyrea spray paint around the entirety of the helmet increases its durability and resistance to environmental factors such as rain, oil, and similar liquids. The helmet's ballistic properties and paint will not fade over time, ensuring long-lasting protection for the wearer.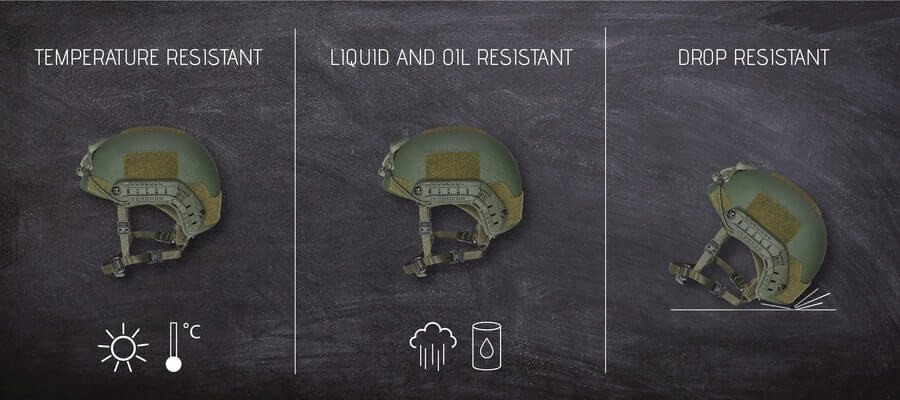 A high cut helmet with memory foam and BOA Fit
PGD ARCH helmet is a high cut helmet that provides space to wear hearing protection or communication equipment without compromising on functionality.
The helmet can be easily adjusted to your needs. It shapes to your head in 2-3 seconds and feels like a "flying" helmet because it fits snugly without feeling tight. This is achieved through the implementation of our proprietary PGD-10 pad memory foam technology, which delivers outstanding comfort while simultaneously reducing the impact of blunt force trauma.
Our PGD-10 pad memory foam technology is specially designed to reduce the impact of blunt force trauma from shots while also providing unbeatable comfort. Originally developed by NASA to protect against impacts, our memory foam technology is second to none.
Moreover, the foam is easily replaceable and can be attached using velcro, making maintenance easy.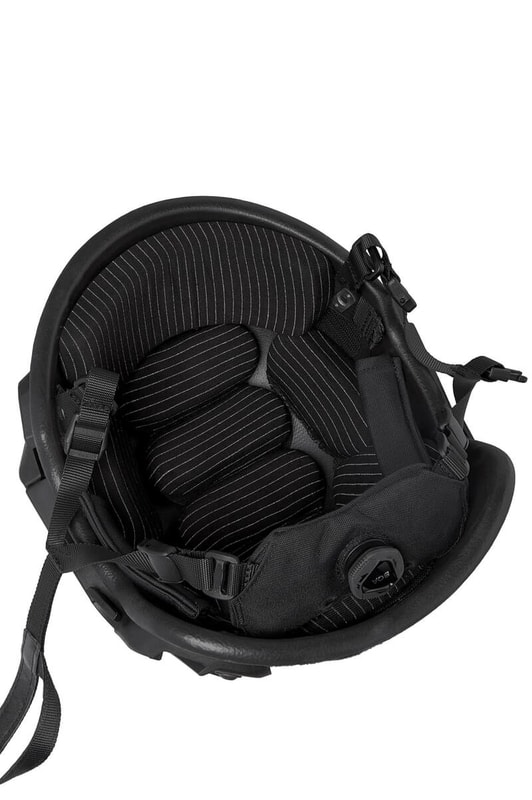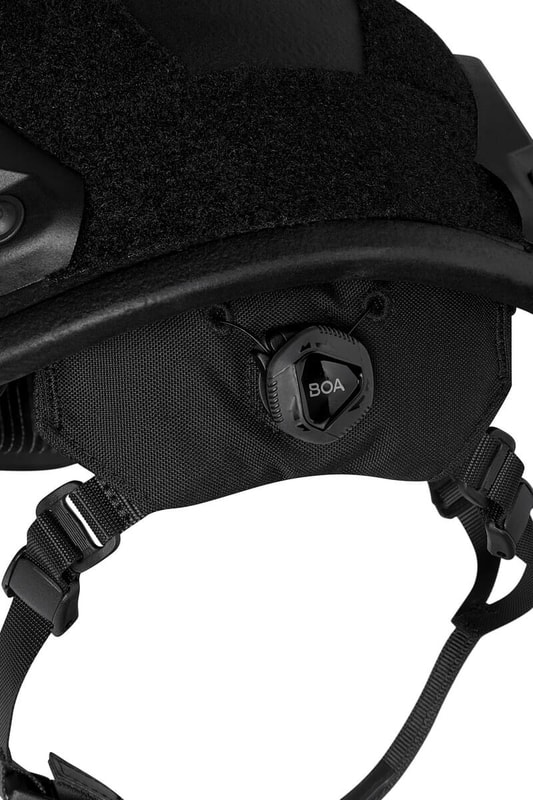 The ​​ARCH helmet also comes with our PGD buckle system, which uses high-quality materials from BOA, ITW Nexus and Duraflex.
The BOA Fit buckle system fastens the helmet to the head and can be quickly adjusted via the rotary knob. BOA provides a perfomance fit at the highest possible level!
In addition the retention system is adjusted with the 4 Duraflex plastic buckles so that they have the correct length for your head.
You can compare our bulletproof helmets here and see which one best meets your needs.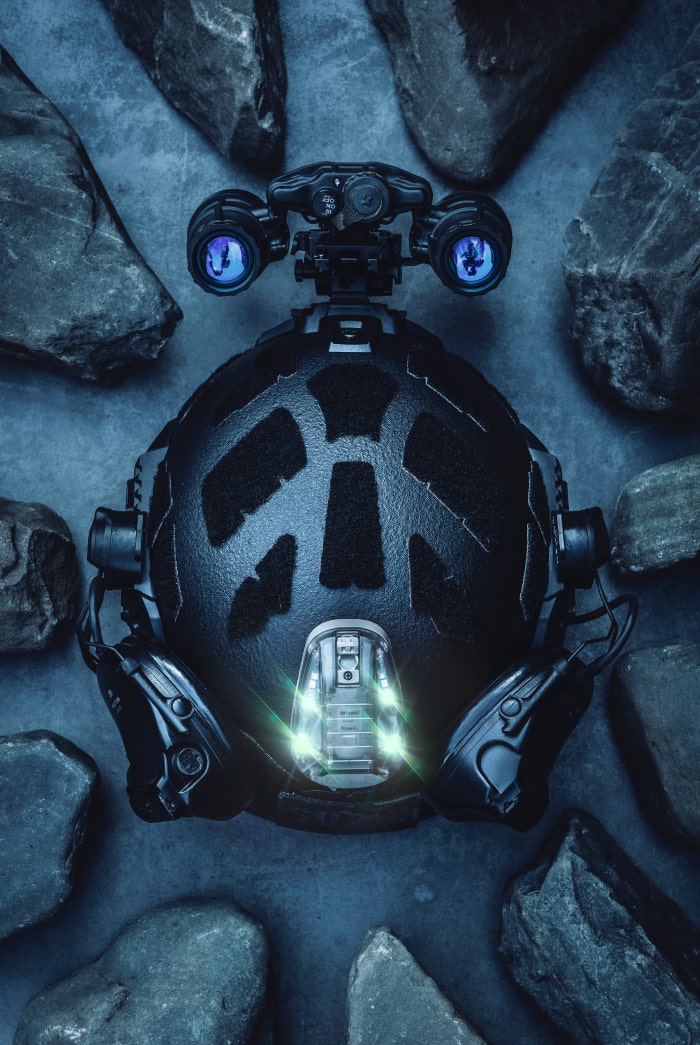 Bulletproof, ballistic Kevlar helmet.
The ARCH helmet is made From Kevlar Aramid from Dupont. Dupont is one of the world's leading manufacturers of Aramid fiber.
We use a unique propriority prepreq lamination process that allows us to make a bulletproof helmet that is extremely durable, with a low weight compared to ballisitic threats that the helmet stops.
The ARCH is tested according to NIJ 0106.01 against ballistic threats from NIJ std 0101.08 and NIJ std 0101.06, making it possible to stop up to a .44 magnum, .357 SIG and 9 mm FMJ
In addition, the V50 helmet has been tested up to 660 M/S against fragments and shrapnel (17 grains) according to STANAG2920, which is the NATO standard for testing of bulletproof materials.
When a bulletproof helmet stops a projectile or fragment, a standard helmet is affected in a 130mm area around the impact, which is also called Blunt force trauma.
Our ARCH ballistic helmet is only affected in an area up to 75 mm. around the impact. This feature significantly mitigates the level of blunt force trauma experienced by the wearer, reducing the degree to which the helmet deforms and increasing its ability to absorb the bullet impact.
An ARCH helmet reduces the depth by up to 50% (according to HPW-TP-0401.01B IIIA), where the trauma is on average 11.2 mm against a 9 mm. It provides significantly greater safety and the chance of surviving the trauma from a gunshot is greater.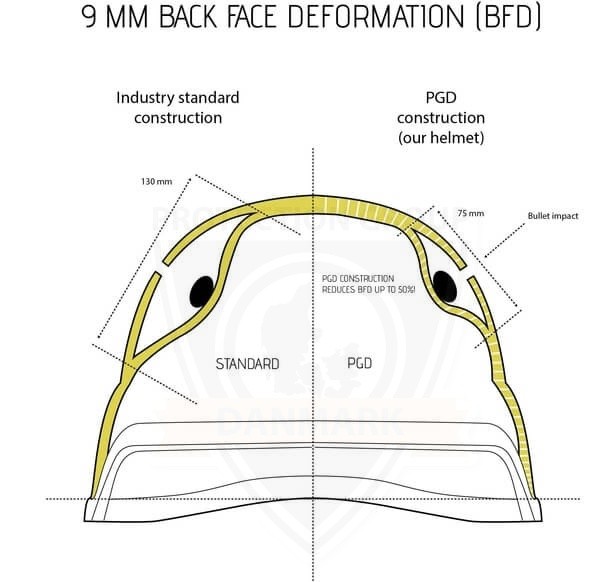 TEST specifications ARCH helmet:
NIJ 0106.01 standard with IIIA 0101.06 threats: .44 magnum and .357 SIG.

NIJ 0106.01 standard with IIIA 0108.01 threats: .44 magnum and 9 mm FMJ.

V50 STANAG 2920: 660 m/s

50% reduction in Back Face Deformation (BFD) against 9 mm (HPW-TP-0401.01B IIIA)
Specifications ARCH helmet:
The inside of the helmet is padded with our 10-pad memory foam, which can be adjusted as needed.

Possible to fasten and adjust the helmet with the BOA-FIT system.
The weight of ARCH is: M(1.30 kg), L(1.35 kg), XL(1.39 kg)

Size M(52-55 cm), L (56-59 cm), XL (60+ cm)

Made with Kevlar aramid from Dupont.

Rails are compatible with 3m Peltor, Sordin, Ops-core AMP arms, Earmor, and Unity Tactical rail adapters.

5-year ballistic warranty on the helmet shell and 2-year warranty on the BOA system, foam, and rails.

Colors: Black, OD Green, and Coyote Brown.
---

(Pictures of bulletproof helmet tested against .44 Magnum, 40 S&W, .357 SIG and 9 mm)
Comments 8
---
BEST

Reviewed by Trigger_moerv

My choice for head protection! I am fully happy with this outstanding helmet. It feels very comfortable and does its job! Thanks for the quality you guys provide! Warm regards

Attach Rail Kit

Reviewed by Filip

Problem with wearing hearing protectors. The rails are not compatible with the adapter. The rails seem too wide. Besides, a great product.

Sturdy, reliable and very adjustable

Reviewed by Andersson

About the PGD-ARCH The Positive: * Dial works good. * Padding liner is soft and "wraps" around your head to create a snug but gentle fit. Gets a bit spongy if you are "running&gunning" in warm environments. Nothing strange about that, seems to dry out pretty quick tho. * NVG Bracket is solid - Tested out with Norotos Rhino 2, had to scrape a half millimeter of an edge - after that extremely snug solid fit. * Good velcro inside helmet, liner configuration options are abundant. * Good protection level. * Seems to have similar dimensions as the Ops-Core High-Cut etc. The Negative/Weird: * If you have something big attached to the outside of the helmet, like a helmet cover, and try to remove it, some of the helmet glued velcro might start to come off a bit. Nothing crazy disturbing, just something to keep in mind and to fix with superglue or similar. * The small padding covered strings that run from the dial to above your ears are a bit of a mystery to me. I'm on the fence wether to keep em or not. They sometimes get under my Comtac so it doesn't shut completely tight around the ears which I'm not a fan of. Overall excellent helmet. Can only really compare it to Swedish M90 combat helmet which is around 30 years old with the protection level, fit and comfort from back in those days. As a grunt in the National Guard for well over a decade all I can say is that i wish we could switch to these helmets instead because many reasons; protection, comfort and utility being 3 of them. At this price it's a steal.

Best Bang for your buck

Reviewed by James Duncan

I just purchased the 2nd generation of this helmet. Having served close to a decade in an Army as Infantry these helmets are levels above the old issued helmets. Light, super comfortable . The shroud holds the NVG brackets supper tight. Improvement over the first gen. For this price this is the best new helmet you can buy. And being made in Europe is a big bonus.

Parfait je recommande !

Reviewed by Antoine M

Parfait je recommande !

Excellent product.

Reviewed by Enrico G.

Excellent product.

The perfect helmet!

Reviewed by Timo

Light weight and comfortable to wear. The PGD-dial system is very good because you can adjust the helmet perfect in a few seconds. Definitely not my last gear part form PGD.

This is a extremely well built helmet...

Reviewed by Sean from Warfare.inc

This is a extremely well built helmet with all the right features. As a Sniper a high cut helmet makes the difference, this helmet allows me to get fast target accusation without removing it. Comfortable to wear over extended period of time and allowed for air flow over the head. Itís colour and look is outstanding and a perfect match to my other gear. If you are in the market for a new lid this wonít disappoint. I have used mine on quad bikes and on foot. Highly recommended helmet built by one of the best companies.