---
A MICH 2000 bulletproof helmet complies with the protection standard NIJ 0106.01, which stops bullets up to
Also, the helmet is V50 against fragments up to 660 M/S according to Stanag 2920, so it stops shrapnel and fragments.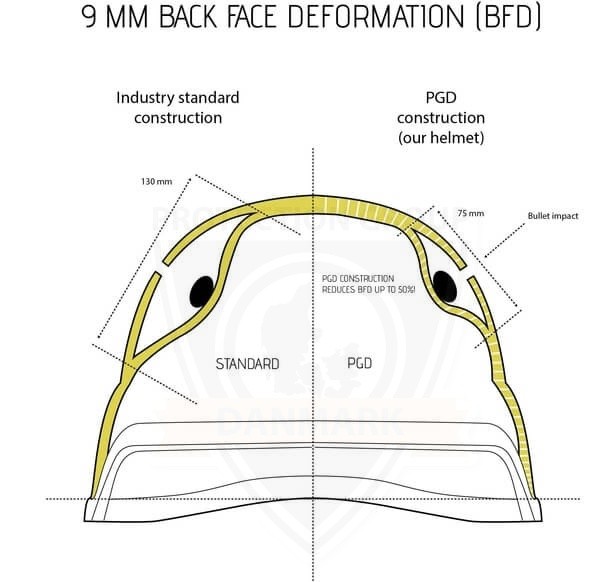 This bulletproof helmet is made of 100% Kevlar aramid from Dupont. A stopped shot will always cause the helmet to be pressed inwards. On standard helmets, the helmet is affected in an area of ​​130 mm, while MICH 2000 and Protection Group Denmark's other helmets are only affected in an area of ​​75 mm. It gives up to 50% less depth in the 'bulge' of the helmet and reduces the risk on your head considerably.
MICH 2000 The helmet is coated with Polyurea Spray paint, which protects against UV light, water and liquids so that your bulletproof helmet does not lose its ballistic properties.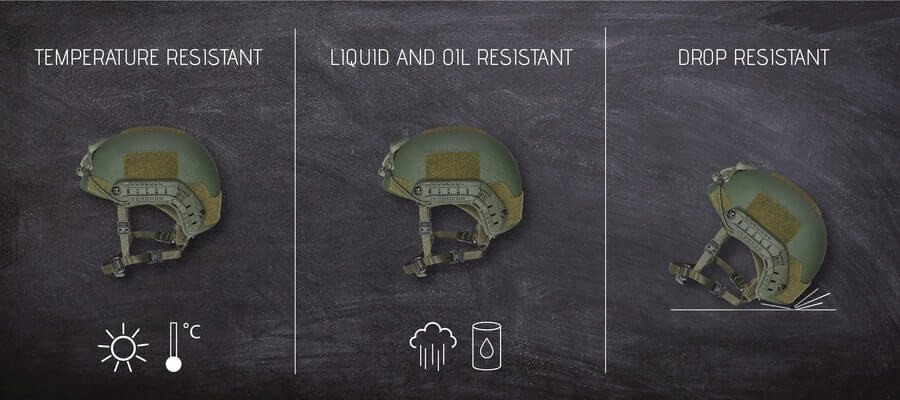 Top comfort:
The helmet features the foam system PGD-10 pad liner, which ensures a soft and comfortable helmet.

PGD-BOA Fit system is standard in this model and ensures that your helmet can be adjusted and clamped perfectly to your head.
TEST specifications MICH helmet:
NIJ 0106.01 standard with IIIA 0101.06 threats: .44 magnum and .357 SIG.

NIJ 0106.01 standard with IIIA 0108.01 threats: .44 magnum and 9 mm FMJ.

V50 STANAG 2920: 660 m/s

50% reduction in Back Face Deformation (BFD) against 9 mm (HPW-TP-0401.01B IIIA)
Specifications MICH helmet:
From 1,22 kg / 2.7 lbs.

100% Kevlar aramid from Dupont.

Includes 10-PAD memory foam system and BOA-FIT dial system

5 year ballistic warranty on the helmet shell and 2 year warranty on the BOA system and foam.

Colors available: Black and OD Green