---
The bulletproof helmet is designed to be comfortable to wear and at the same time, it is low cut, so it provides maximum protection against fragments and shots.
The helmet stops up to a .44 Magnum and .357 SIG according to NIJ standard 0101.06 and is further V50 tested to 660 m/s according to STANAG 2920 against fragments.
The design reduces the effect of a projectile by up to 50%. A standard military helmet is affected by a 130mm area around the stop when it stops a projectile or fragment. Our PASGT military helmet is only affected in an area up to 75 mm. around the impact. That difference greatly increases the chance of surviving the trauma from a shot. The less your head is affected by a shot the better. A PASGT helmet reduces depth by up to 50% (according to HPW-TP-0401.01B IIIA).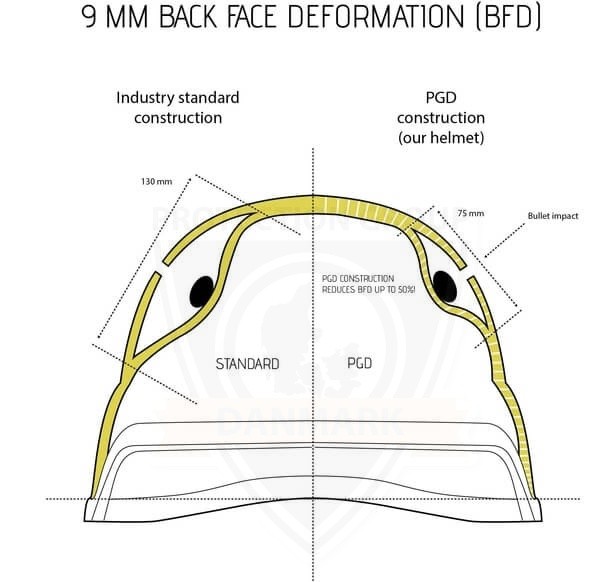 A helmet that is easy to maintain will also have a longer life. The PASGT helmet is applied with polyurea spray paint. It protects the helmet from water and liquids that cannot penetrate and destroy the ballistic properties.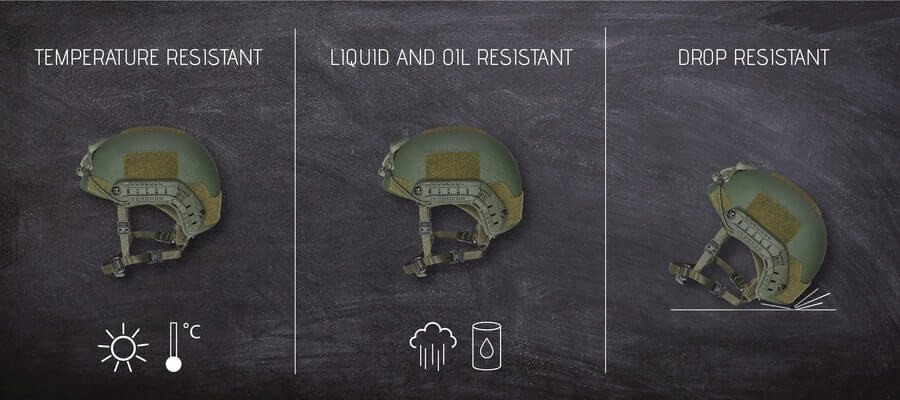 Top comfort:
The helmet features the foam system PGD-10 pad liner, which ensures a soft and comfortable helmet.

PGD-BOA Fit clamping system is standard in this model and ensures that your helmet can be adjusted and clamped perfectly to your head.

TEST specifications PASGT helmet:
NIJ 0106.01 standard with IIIA 0101.06 threats: .44 magnum and .357 SIG.

NIJ 0106.01 standard with IIIA 0108.01 threats: .44 magnum and 9 mm FMJ.

V50 STANAG 2920: 660 m/s

50% reduction in Back Face Deformation (BFD) against 9 mm (HPW-TP-0401.01B IIIA)
Specifications PASGT helmet:
Sizes L and XL

From 1,24 kg / 2.75 lbs.

100% Kevlar aramid from Dupont

5 year ballistic warranty on the helmet shell and 2 year warranty on the BOA system and foam.

Colors: Black and OD green.