---
What is the advantage of this bulletproof vest?
It is very slim. It keeps the weight down. It weighs only 1,7-1,8 kg./ 3.7-4 lbs for a medium size.

It is flexible so you retain the freedom of movement to perform at your best.

It follows the shape of the body, so you hardly notice that you are wearing it.
The vest has been tested to the highest level of protection, NIJ level IIIA (3A), to stop the latest and most advanced threats from hand-guns.
We are also very proud that the vest is 100% manufactured in Denmark, Europe at our own factory. The alpha carrier system with Outlast PCM technology ensures that the bulletproof vest sits as it should and protects everything it is created for.
You can choose PGD ALPHA bulletproof vests in two ballistic solutions:
BRAVO IIIA + 27J, is our basic soft armor. It meets all the requirements you want to set for an ordinary bulletproof vest.

DELTA IIIA + 55J, is more flexible, thinner, lighter and more resistant to stabs than BRAVO.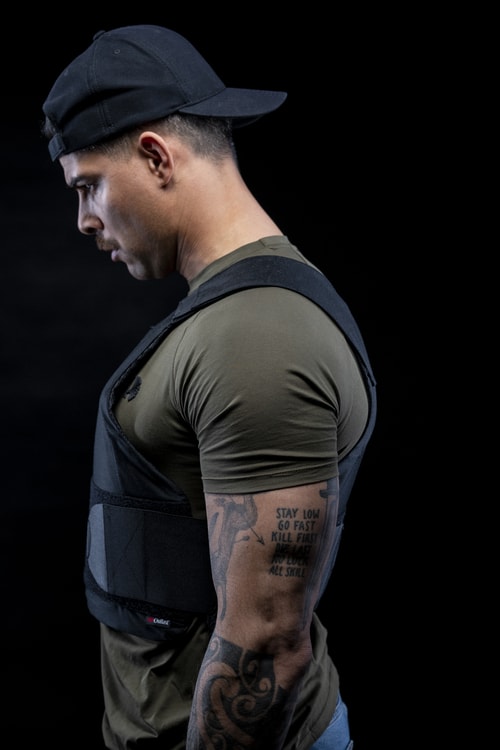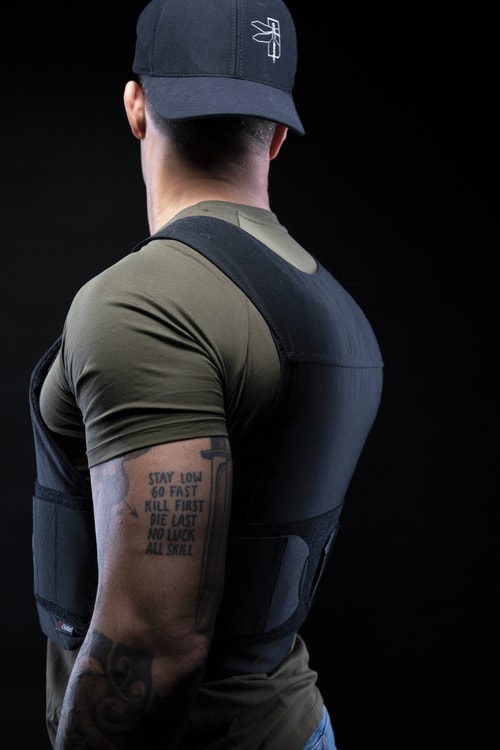 Notice the three definitions in the Bravo and Delta names: IIIA, 27J and 55J.
"IIIA" is the level of protection of the vest. NIJ IIIA is the highest level of protection against small arms and shows how bulletproof the vest is. If the vest needs to stop more powerful threats than hand-gun threats, then you need to upgrade with hard armor plates.

"27J" and "55J" are how hard a stab from a knife, the vest stops. "J" stands for Joules and is the unit of measurement for the energy needed to penetrate the vest. 27J is the standard for bulletproof vests and stops superficial stabs. 55J feels like trying to poke a hole in a locked door with a wet paper towel.
The two vests protect equally well against hand-guns, but very differently against stabbing weapons.
Both vests protect at NIJ level 3a (IIIA) against hand guns. However, there is a noticeable difference in how powerful a stab they can stop from a knife, as we have added a unique composition that also allows the vests to stop knives.
BRAVO IIIA + 27J
Bravo IIIA + 27J is made of Spectra shield from Honeywell and a special trauma technology. When we combine the two materials, we can make a lighter vest with more comfort.
Honeywell is one of the world's leading companies in the development and production of ballistic materials and has control over what they do.
The special trauma technology has been developed by Protection Group Denmark and provides a hybrid bullet and stab proof vest, which stops knives up to 27 joules!
Specifications:
NIJ IIIA 0101.04 / 06

NIJ 0115.00 S1 27 joules.

7mm thin (It's probably thinner than your mobile phone).

6/10 flexibility

Recommended for men only
DELTA IIIA + 55J
DELTA IIIA + 55J is very similar to BRAVO IIIA + 55J, however, the difference is that DELTA is more flexible, thinner (only 4.9 mm) and is stab proof up to 55 joules.
Delta consists of Goldshield from Honeywell, and is our most flexible bullet and stabproof vest, which shapes itself to both men and women's bodies.
Specifications:
NIJ IIIA 0101.04

NIJ 0115.00 S1 55 joules, which makes it twice as stab-proof as the Bravo model.

Ultra thin, only 4.9 mm.

10/10 flexibility

UNISEX - works as a bullet and stab-proof vest for both men and women.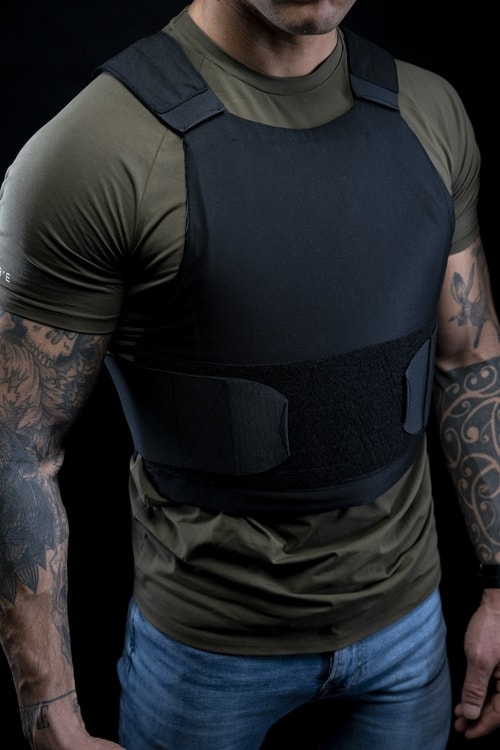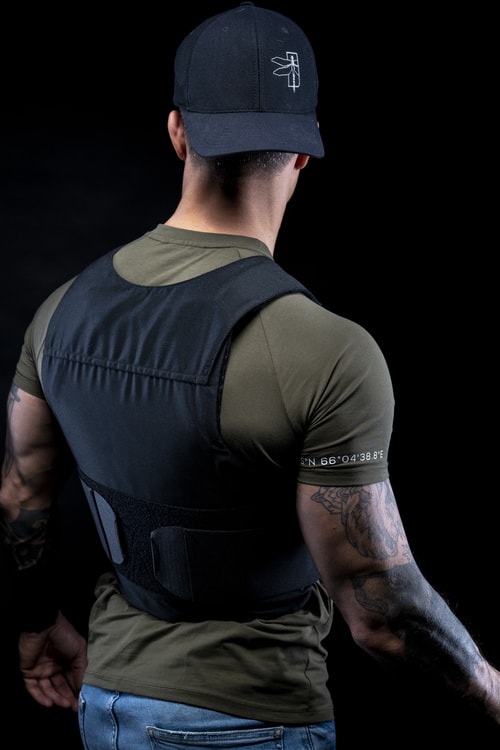 Best bulletproof vest with technology that keeps the body temperature just right.
In our ALPHA IIIA - BRAVO and DELTA bulletproof vest we use Outlast® PCM technology. It is a NASA technology that keeps your body neither too hot nor too cold but keeps the body temperature just right.
Outlast® PCM helps you to wear the vest for long periods of 12-14 hours at a time.
Because Outlast® is a technology - not a material - it can both hold and release heat. Ordinary traditional mesh / sweat-absorbing materials only help you get rid of the heat but do not keep you warm if you freeze.
A bulletproof vest with Outlast® is like having a duvet that you do not kick off at night because you sweat, or lack in the morning because you are freezing.
If you are on guard or patrolling, it makes a huge difference to your ability to perform when the equipment adapts to your needs. Outlast® technology helps with that.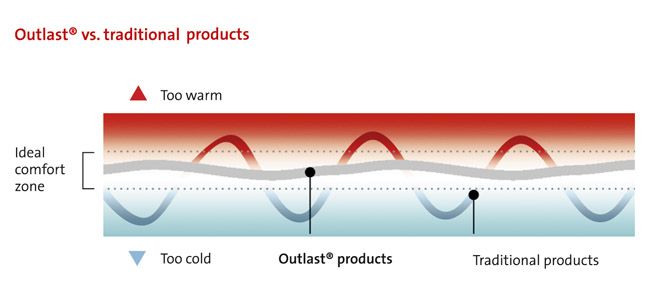 Bulletproof vest with water-repellent material.
The bulletproof panels come in a water-repellent cover, which is sealed with our Ultrasonic sealing technology. It provides a 100% water-repellent seal. All forms of sweat and water are rejected and this keeps the ballistic property intact.
That's why we offer a 7-year guarantee on all our bulletproof panels. That is 2 years more than the standard requires.
All in all, you get a secure vest, that is designed to stop the most advanced threats from shots and knives, where both comfort and level of protection are top-notch.
Technical specifications:
7-year ballistic warranty

100% water/sweat resistant ultrasonic sealed PU cover

Unisex (can be used by both men and women)

Concealed design

2-year warranty on the carrier

It is possible to add hard armor plates in both front and back.

S-M accepts S ESAPI

L-XL accepts M ESAPI

XXL, 10x12, M ESAPI

XXXL, 10x12, M and L ESAPI
Find the right size for you here.
Comments 6
---
Really lightweight and fits snug!

Reviewed by Timmy W

Easy to breath in and its made of nice material! I recommend this vest!

I will definitely recommend this!

Reviewed by James

Great comfort and perfect for covert use. I have been wearing this vest for a few months and i like the quality of this body armour. I will definitely recommend this! //James

5 stars.

Reviewed by David D.

Light and flexible as promised. 5 stars.

Fantastisk vest, som sidder 100% tŠt under min skjorte.

Reviewed by Jan Petersen

Fantastisk vest, som sidder 100% tŠt under min skjorte.

Concealibity is extremely great.

Reviewed by Nathan

I purchased the DELTA version with Goldsheild. It is really thin and flexible. The carrier is extremely comfortable and fits well. It's very comfortable now at 22C, I'll see how it's like when it gets hotter. Most armors with Honeywell Goldsheild are priced much higher(>$700). It's made from unidirectional aramid instead of being woven, which allows it to be more efficient therefore thinner and more flexible. It is also much more stab resistant. I looked at other armor around the same price range and they either were much thicker, lack stab protection, and/or lack carrier cooling lining. Concealibity is extremely great. Concealable with a T-shirt, can notice slightly "buffed up" chest, look slightly more rectangle, and slightly printing on the back when pulling arms inward. Most people won't notice a thing. With a buttoned-up short sleeve shirt, it was invisible. The only thing different was that I appeared to have been doing more bench presses. Any cloths made from stiffer fabric (like BDU fabric) would conceal extremely well. keeping in mind, my armor is still new and hasn't been broken in. I personally contacted Protection Group Denmark, the CEO responded to me in a day. You can ask for Chesapeake testing papers, and armor dimensions for various sizes. Based in Denmark, the company seems very trustworthy. This armor is not listed on the 06 NIJ CPL, but they have a cheaper armor (Beta vest Alpha insert, also sold on this site) on it. Considering PGD is a pretty small company, the cost to be NIJ listed is extremely high, and it's based in Europe while NIJ standards are American. Chesapeake independent testing plus the use of reputable Honeywell ballistic matrail blended me to still trust this armor. The average BFD with .44 Mag was 36mm, where NIJ allowed is 44mm. Indicating they weren't cutting the edge. PGD's website hasn't been updated, so email them directly if you have questions. I ordered one size larger for overlap of the side. The armor arrived 7 weeks after ordering shipped directly from

Amazing body armor!

Reviewed by William C.

Fits perfect and it is lightweight and thin, making it easy to conceal under a shirt