---
This ESAPI plate, which stands for Enhanced Small Arms Protective Inserts, is NIJ level 4, stand alone and available in 5 different sizes:
Small: 227*303 mm / 8.75"x11.75" - (2.70 kg/5.95 lbs)

Medium: 246*323 mm / 9.5"x12.5" - (3.20 kg/7.05 lbs)

Large: 265*342 mm / 10.25"x13.5" - (3.50 kg/7.71 lbs)

X-large: 285*361 mm / 11"x14" - (4.0 kg/8.81 lbs)

Standard: 250*300 mm / 10"x12" (2.95 kg/6.5 lbs)
Side panels (optional) come in the following sizes:
150x150 mm / 6''x6'' (1 kg/2,2lbs)

200x150 mm / 6''x8'' (1,2 kg/2,4 lbs)
The PGD-Uline can be used as a stand-alone, so you do not need soft armor. It is designed in a multi curve that makes the plate sit nicely to the body because it is shaped for the chest and abdomen.
The plate is made of one large piece of Monolithic SIC ceramic. It gives you the lightest and at the same time the strongest ceramics we have available for NIJ level 4.
In addition, the use of Monolithic SIC ceramics also provides the opportunity to make an edge-to-edge ceramics, so that the ceramics cover the entire front of the plate. If your plate is not protected from edge to edge, the plate will protect a smaller area of ​​your body than it appears. It is much cheaper to produce without edge-to-edge ceramic, but it would also protect about ⅓ less of your body.

(Picture of active ceramic area on PGD plates (ours) vs industry standard.)
Why does an ESAPI plate provide ultra protection?
At the same time, the plate is protected by a thin layer of foam all the way around the plate against impact and hard use. The advantage of a ceramic plate is that SS109 / M855 / m193 and Armour-piercing impacts are stopped where they will penetrate steel.
At the back of the plate, we have built our Anti Back Face Signature line. It provides extra protection against the impact of the bullet, so you do not die from the impact.
In short, a PGD U-line plate is your extra body mate that covers you when you need it most.
Designed for extreme environments
Our ESAPI plate is designed so that you can perform well in extreme environments where it is either hot or very cold. This makes the plate very popular among soldiers operating in the Middle East, for example.
Although water and oil on the plate are not fatal to your body, a PGD U-line plate is sealed with a water-repellent Cordura cover. This means that your ESAPI plate can and does help to extend its shelf life.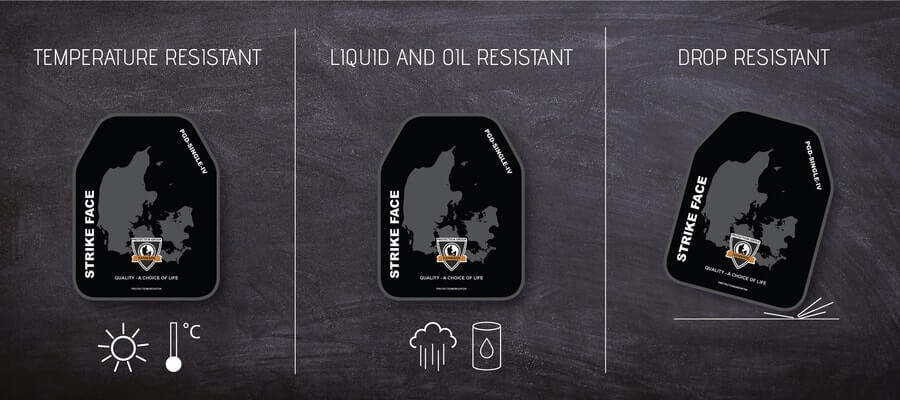 The ESAPI plates stops the following threats:
30 Cal. 166 gr. APM2, 1 shot

7.62x54R 150 gr. B32, 1 shot

7.62x51 NATO M80, 7.62x39 MSC AK47, 5.56x45 NATO SS109 / M855 / M855A1
Specifications ESAPI plate
Tested for NIJ level IV

Stand Alone | Requires no soft armor

26 mm thin (SA)

ESAPI cut

Multicurved / 3d curved

Waterproof cover against oil and similar liquids

Long warranty: 7-year warranty. That is 2 years more than the law requires.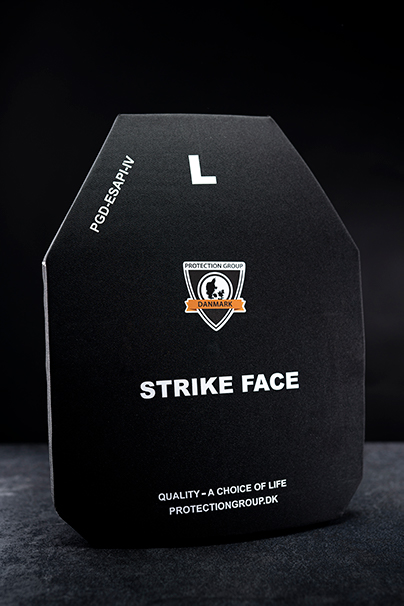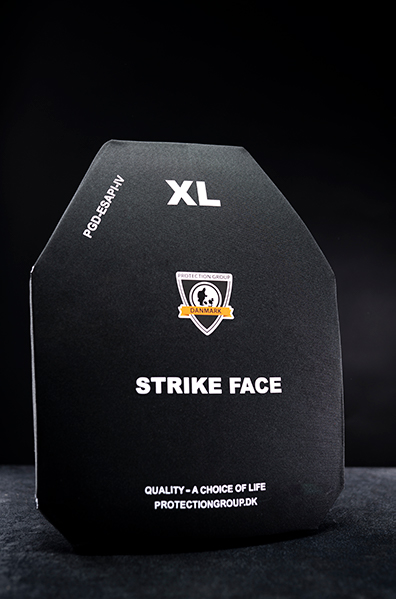 Test report: NIJ level 4 against .30-06 Springfield and NIJ level 4 against 7.62x63 AP
---

Contact info@protectiongroup.dk to receive the report.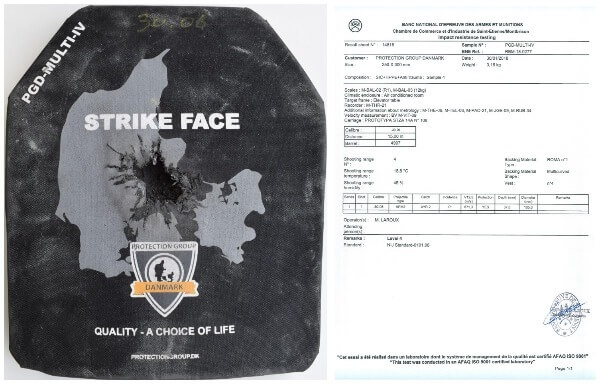 Comments 3
---
Buy Buy Buy

Reviewed by Grigorios Pantelellis

First things first, amazing customers support. Now regarding the product, high quality plates. I ordered Large size plates and they fit perfectly in my LBT 6094b. I hope I will not have to test it's balistic protection. Highly recomended.

This armor plate is amazing

Reviewed by Robert

It is lightweight, fits perfectly in my vest and I carry it with trust.

We bought these plates for our team members and they are just perfect.

Reviewed by AgezyGroup

The fit is great and they feel solid.